Below you will find some examples of leather accessories made to measure for old motorbikes and cycles. All wishes can be taken in consideration.
Saddlebags  & toolbins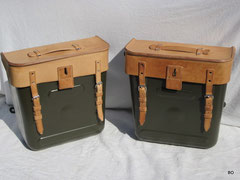 ABL-bags (anno 1950)for Gillet, FN and Saroléa-estafettes with new leather covers matching the original (natural).
Other colours are possible.
Buffer & kneegrips
Adaptions, repairs and restaurations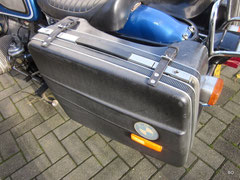 Installing of extra security straps in leather for synthetic bins or suitcases (all brands). Here BMW Kreuzer-bins.